The Nigerian marketing system and commercial policy is a discussion of a network of people, organizations, and/or entities that engage in economic exchange and produce, assemble, transform, and make goods and services available to Nigerian and international consumers.
In Nigeria, there are many different ways to market products and services, including TV commercials, radio advertisements, print (newspapers and magazines), flyers, banners, billboards, social media, and in-store displays.
Nigeria is undoubtedly a market hub, with many of these markets producing billions of naira annually. One of Nigeria's six geopolitical zone which is the South East represents the country's inland southeast both geographically and politically.
Five states make up this region: Abia, Anambra, Ebonyi, Enugu, and Imo. The area is also referred to as a commercial and trading zone because it is home to small and medium-sized indigenous businesses that provide goods and services.
Yam, cassava, rice, cocoyam, etc. are the primary agricultural products of the region. The two most populated cities in Nigeria are Aba and Enugu, which are also the tenth and fourteenth most populous cities overall.
Other significant cities in the southeast include Onitsha, Umuahia, Owerri, Nnewi, Awka, and Abakaliki (in order of population). The top 6 largest markets in Southeastern Nigeria are examined in this article.
1. Onitsha Main Market – Onitsha, Anambra State.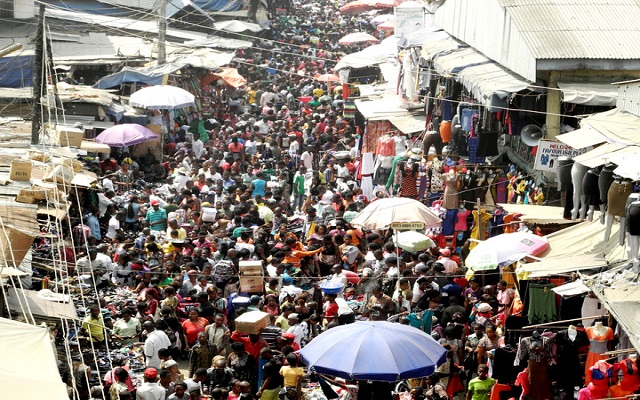 Onitsha's Main Market  also known as Onitsha Market is one of West Africa's biggest markets in terms of both geographical area and merchandise volume.
The Onitsha Market Traders Association, one of the most reputable traders organization on the continent, is in charge of it (OMATA).
The major market in Onitsha, Anambra state, is regarded as the commercial hub of West Africa. Onitsha's vast market, which is regarded as the largest market in terms of item availability and land size, includes everything from imported second-hand clothing to jewelry to industrial equipment.
Its headquarters are in Onitsha, the commercial hub of Anambra State in southeast Nigeria's Onitsha North Local Government Area. The settlement is situated on the Niger River's east bank, where it empties into the Anambra River.
The main market building in Onitsha was said to be the biggest in all of Nigeria. Despite being damaged in the 1968 Nigerian civil war, the structure was reconstructed.
The majority of the significant importers from Eastern Nigeria have their headquarters at the market. Each year, local dealers are known to import at least six consignments totaling 40 tonnes (40-foot containers) of products.
More than 200 consignments of 40 tonnes of products are shipped by some of the largest importers each year. These include jewelry, attire, as well as home, business, and office supplies.
The River Niger forms one of its western boundaries, while Fegge along Osumaru Road forms its eastern boundary.  Under the supervision of the Nigeria Police Force, the Onitsha Main Market Vigilante Services protect the market.
The market is legitimately referred to as the economic engine of West Africa. It receives a lot of business from traders in the ECOWAS sub-region, including those in Accra, Abidjan, Douala, Niamey, and Cotonou, to name a few.
The major market in Onitsha has a huge selection. Despite tight security, there are a lot of pickpockets and con artists out there.
2. Ariaria International Market, Aba, Abia State.
The Ariaria International Market is regarded as Nigeria's or Africa's Chinatown for trade and commerce. There are thousands of shoemakers working there.
Ariaria Market is an outdoor market that spans numerous streets and is certain to provide everything you could possibly want in a market. The leather and textile industries greatly benefit from Ariaria market. It provides excellent discounts on a variety of products, including shoes, jewelry, office supplies, food, and lace.
One of the biggest and most well-known marketplaces in Nigeria today is the Ariaria International Market, which is situated in Aba, the capital city of Abia State and its commercial center.
Shoes, bags, various leatherworks, and other products created in Nigeria can all be found in this market. After a fire outbreak in Aba destroyed the previous Ekeoha Market, Ariaria International Market was created.
Ariaria is a "one stop shop for everybody." Nearly everything is available in Ariaria International Market in Aba.
Ariaria International Market is a resellers' market where you can buy wholesale cheaply and even have your desired products designed and produced to your own exact specifications.
It has an annual turnover of over $3b (three billion dollars (2018 data)). Truckload purchases are made by traders from all throughout Nigeria and the West African region.
Some foreign companies even purchase Ariaria products in large quantities, return home, rebrand, and resell for substantial profit. Ariaria is undoubtedly the place to be if you want to buy in bulk or just select a few high-quality items for yourself.
It's an outdoor market. The market is one of the largest in West Africa and is known as the "China of Africa" due to the variety of clothing and leather products it can produce.
The market's original location was a marshy region. The showcase spans three local government zones: Osisioma, Aba South, and Aba North.
Ariaria International Market, which can compete with Africa's big marketplaces, has a certain allure that seems to be fueled by the fact that it's a haven for shoppers.  One of the biggest markets in West Africa, it is well known for producing clothing and leather goods.
It is not surprising that Ariaria International Market has a fantastic shopping environment because it is a vibrant cultural center with a reputation for inventiveness.  Everyone can find anything in Ariaria Market, including clothes, plants, and hotel supplies and many more.
Anytime you hear, 'made in Aba' that item is probably made in Ariaria. If you don't have money for designers and you want replica's, Ariaria is the place.
3. Ogbete Main Market, Enugu State
Ogbete Main Market is one of the largest markets in Southeast and Nigeria as a whole. The Ogbete Main Market is located next to the Old Park and the Genesis Restaurant on Zik Avenue.
The largest market in Enugu is Ogbete Main Market. It is located across from the Enugu Municipal Area Council.
People from other local governments visit the store to purchase their goods. A very crowded market with numerous departments and sections of goods, including general clothing and apparel, food, electronics, and other technologies.
The prices in this market are very low, and you can find almost anything for your home and personal use. Wheelchair users can access the majority of the components.  One of the largest markets in the east, and the largest in Enugu, where you can buy everything but body parts.
The name Ogbete comes from the nearby market district of Enugu North LGA in Nigeria's Enugu state, which is also known as the "coal camp." Akwata, mgbemena, ancient park, and holy/railway side are its four divisions. A pleasant place to shop.
The preferred marketplace for wholesale purchasers and dealers. Ogbete is divided into lines and lock-up stores, just like other significant markets in the nation.  Each line consists of a number of lock-up stores occupied by traders who deal in related or complementary commodities.
Some of the lines in Ogbete have alphabetical names, such as K-line, M-line, and D-line. However, certain other significant lines, such as the railway line, electronics line, food line, plastic line, cosmetic line, books line, etc., are not alphabetically numbered.
Enugu residents frequently choose to travel to Ogbete for large-scale purchases, bulk purchases, original and high-quality purchases, access to a variety of products, and purchases at firm or wholesale prices. All other goods on the market, excluding apparel and textiles, are moderately affordable.
To accommodate the demand for goods and services, Ogbete market, one of the earliest developed markets in Igbo country, expanded. This development was brought about by colonial facilities that facilitated intra- and interethnic trade.
4. New Market, Aba, Abia State
There are two significant markets in Aba, including the well-known New Market. On Sundays, the market attracts tens of thousands of consumers and dealers. However, the market's drawback is that during the rainy season it becomes flooded.
Nigeria's Aba South, in the Abia state, is home to New Market (Storage). The New Market's address is Ariaria, Aba, Nigeria. The New Ngwa Road (New) Market is renowned for its selection of both new and gently used apparel and leather goods. The foundation of Okirika's business is New market.
There are numerous other market sectors offering anything you can think of, including stationery, meat, groceries, kitchenware, cereals, and other food goods, just like most markets in Aba.
Visit this market if you're looking for reasonably used apparel or food goods (bent down boutique).
5. Ǹkwọ Nnewi, Nnewi, Anambra State
The Nkwo Nnewi market is well known for its assortment of goods and services, including auto components. In this market, which is so diverse, there is barely anything you can't find.
There isn't much you would not find there, and it's always at a great price. From interior/exterior decoration items to lubricants and body enhancement items, they've got the best prices in the market.
The poor access roads and lack of substantial vehicle parking are the only issues with the Nnewi Nkwo market. The majority of pedestrians won't find this to be a problem because there are transportation options nearby, but drivers would.
It's a convenient location for those traveling from a distance to purchase goods due to the proximity of ATMs, banks, and eateries. Overall, the Nkwo Nnewi market is great for both buyers and shoppers. Everything else is wonderful and open for business once you can deal with the poor access road.
The motorcycle and automobile spare parts market in this region of the country is the largest. The market is open from Monday to Saturday and sells everything you need, including full vehicles and food items of all kinds.
It is located in Nnewi, a busy commercial town. There are numerous goods/commodities available here that can be bought for affordable pricing. It is constantly extremely busy, with a lot of people entering and leaving at once.
Vehicle movement is not excluded either. Additionally, multiple banks are strategically positioned throughout the Market to facilitate convenient access to cash and other transactions.
Your motor parts, motorbike parts, tricycle parts, and other auto parts can be found on a big international market. It's known as the Japan of Africa.
6. International Market, Ebonyi State
A first-class market called Margaret Umahi International Market can be found in Ebonyi State, Nigeria, along Abakaliki-Ogoja Road on the West African Trans-Saharan route.
In the entire West African Sub region, the market is the best of its sort. Everything you might be looking for is available there. There are more than 8,000 shops in the international market, which the state government built with modern amenities.
The city's Trans-Saharan Highway is where you may find it. Investors from outside the state have begun importing their items to sell in the market. The market is among the largest and best organized in the Southeast. It has open shops, contemporary stores, a sizable garage, and warehouses.
People from near and far have flocked to the recently created worldwide market. In order to relieve traffic congestion, there is a well-built flyover in front.
The market is beautifully constructed and well-located. Aside from its size and massive infrastructure, it is truly a sight to behold. Despite the high security at this location, one should still exercise caution.
These are only the top six marketplaces in the southeastern part of Nigeria; there are many other excellent ones as well.
SEE ALSO: https://awkarealestate.ng/top-5-five-growi…outheast-nigeria/